Oregon Needs Campaign Finance Reform
We take pride that Oregon is often first in progressive reforms, like the Bottle Bill and public access to ocean beaches.
When it comes to campaign finance reform, Oregon is last, dead last!
Oregon has no limits whatever on political campaign contributions for any state or local race. None.
21 states already ban corporate political contributions for candidate races.


23 states limit corporate contributions, usually to $500 - $2000 in a statewide contest.


Only 4 states allow unlimited corporate contributions: Oregon, Illinois, Missouri, and New Mexico.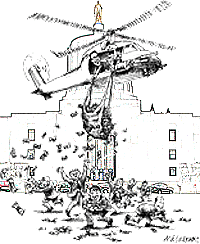 The result is that corporations dominate politics in Oregon. They outspend labor unions by 5-1 and massively outspend all progressive groups and causes put together, including those pursuing the causes of environmental preservation, expanded health care, human rights, justice for all, and consumer protection.
The corporations have pushed up the total spending on races for the Oregon Legislature from $3.4 million in 1996 to over $18 million in 2002. In legislative races, the one who spent more money won 91% of the time. 75% of the money came from only 1% of the contributors. Only 3% of the contributions were in amounts of $50 or less.
Candidate campaigns spent almost $15 million in the 2002 contest for Governor alone, easily setting a new record by more than double. In 2002, each major party candidate spent over $4 million, and the average spent in the primaries by the four losing candidates taken seriously by the press was $1.5 million.
Enron in 1997 saw that the Oregon Legislature was so easy to buy that Enron dissolved itself and reincorporated in Oregon! Yes, Enron is an Oregon corporation -- not just Portland General Electric (PGE), but Enron itself.
Big political spenders get what they want from Oregon government. Examples abound:
Corporate Taxes in Oregon
Oregon corporate income tax rates have decreased by 40% over the past 12 years, leaving Oregon with the lowest taxes on corporations of any state, while schools and other public needs suffer.

Council on State Taxation (2004): Oregon ranks last among states in business taxes per $ of economic activity and per $ of capital income.

Oregon Center for Public Policy (2005): Corporations in Oregon pay 71% less in state income taxes than they did in 1975 (as % of gross state product). In 1975, they paid 18.5% of income taxes in Oregon; now they pay 4.6%. Without new tax breaks, the corporations would be paying $900 million more per year.

Fraud of the Corporate "Kicker": Corporations get their state income taxes cut, if state economist says that overall state revenue will exceed an earlier projection. In late 2005, the "Kicker" cut 2005 Oregon corporate income taxes by 36% ($101 million). Half of the tax cut goes to just 50 corporations.

Oregon Taxes the Working Poor: Oregon ranks 2nd highest in U.S. in share of state and local taxes paid by individuals, not business. Oregon has the 5th highest income taxes in U.S. for a family of 3 earning minimum wage. Oregon has 2nd highest income taxes in U.S. for family of 4 at 125% of poverty line.
Electric Utilities, Particularly PGE/Enron
PGE/Enron was granted 41% rate increase, starting October 1, 2001. This $400 million rate hike is the largest in the history of Oregon. The Oregon Public Utility Commission (OPUC), headed by a long-time paid consultant to PGE (Roy Hemmingway), said PGE/Enron needed the money to pay for high-priced power contracts it signed during 2000 and 2001, during the period when Enron and other suppliers were manipulating the entire West Coast energy market to inflate power prices.
Every electric utility in California and the Pacific Northwest has filed complaints against Enron and the other power supply manipulators before the Federal Energy Regulatory Commission or in the courts. Every utility except one, of course. PGE cannot file a complaint against it own corporate parent.
The OPUC refuses to make PGE pay back any of the $800 million PGE has charged ratepayers since 1997 for "federal and state income taxes" that neither Enron nor PGE has ever paid or will ever pay. This outrage by PGE, PP&L, and other "regulated" private utilities continues right now – at over $150 million per year in phony tax charges to Oregon ratepayers.

Despite a court order, the OPUC refuses to make PGE refund the over $500 million it charged Oregon ratepayers during 1995-2000 for profits on the Trojan nuclear plant, despite the fact that the plant broke down in 1992 and never produced any more of its very expensive energy.

Why? PGE/Enron has handed out almost $400,000 to candidates for the Oregon Legislature and both parties.
Restaurants, Bars, Gambling
In 2004, the Oregon Lottery Commission disregarded its own study and signed contracts to keep paying video poker outlets twice as much as necessary, letting them keep an extra $85 million per year that should be going to schools.

In 2004, Oregon Lottery Commission decided to reduce commissions by only 3%
Why? The Commission is appointed by politicians, and Oregon Restaurant Association contributed over $1.2 million in to them in the last 3 elections.
PayDay Loan Industry
Oregon has no limits on interest rates.

SB 545 would have limited interest to 391% per year (15% for 2 weeks). Payday loaners greased the 2005 Legislature with $141,000 in contributions. Nothing passed.
Many more examples are available at Oregon Follow the Money (www.oregonfollowthemoney.org), which shows how tobacco, accounting, pharmaceutical and other corporations have had their way with the Oregon Legislature.
The average contribution to the political committee (or PAC) of the Oregon Education Association (the teachers' union) during 2000 was about $30. This would easily qualify as a Small Donor Committee. For the largest corporate PACs, Oregon Associated Industries and the Oregon Forest Industries Council, the average contribution was over $10,000. These groups would not even come close to qualifying as Small Donor Committees

Join our endorsers (including Alliance for Democracy, Pacific Green Party, Clackamas County Democratic Party, Health Care for All Oregon, Oregon Gray Panthers, Eastside Democratic Club of Portland, and many others.